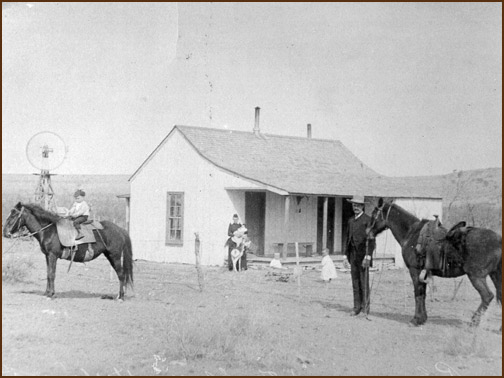 Half-Circle Six Ranches, located in central West Texas, are owned and operated by the Glass family. Philip's great-grandfather, J. L. Glass, pictured above with the horse, arrived in west Texas from North Carolina in 1883 then homesteaded four sections in Sterling County in 1890 and the family still ranches on the same property. Today the ranches continue family tradition by supporting ranching enterprises including cattle, sheep, and goats. Recent additions to the enterprise include whitetail and exotic deer hunting. If you look closely at the photo above, you can see the pet antelope standing in front of Mrs. Glass. So interest in wildlife runs deep in the family!
Philip and Jennifer Glass, along with their children James, Hannah and Jasper, make their home at Chalk Springs Ranch near Water Valley Texas. The children are involved with every aspect of the ranching business which reflects in their 4-H projects, hobbies, and interests.
Dorper sheep and exotic deer and antelope graze the rocky limestone hills and spring fed creek bottoms of Chalk Springs Ranch. Their goal is to produce high quality, range-raised breeding stock Dorper sheep for sale to other livestock producers. They seek out the best available genetics and breed animals to meet the breed standards that have made the sheep so attractive for today's markets.
In addition, the ranch offers fair chase trophy exotic hunts on the 4500 acre ranch. Ranch tours and hunting opportunities are available year around.